owners and key staff profiles
mack5 Team
In addition to our owners and key staff featured below, mack5 has an experienced staff of project, construction and cost managers. Together with our firm leaders, these individuals enable us to provide the expertise you require at an affordable cost.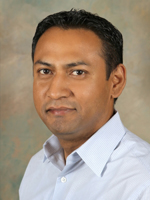 Manil Bajracharya, ME
510.595.3022
manilb@mack5.com
Mr. Bajracharya is Principal-in-Charge and Senior Project Manager & Cost Planner at mack5. He has more than 15 years experience in the construction industry with an education in Civil Engineering. He works closely with project consultants, owners, stakeholders and facility staff to coordinate and execute the project at hand. Manil has worked on a wide variety of projects for municipalities, nonprofits and private organizations. He earned a BE in Civil Engineering from Mehran University of Engineering and Technology in Pakistan and a ME in Engineering from the University of Mississippi. Manil joined mack5 in 2004.
Eve Nelson, MBA
510.595.3021
enelson@mack5.com
Ms. Nelson is the firm's Principal-in-Charge of Marketing and Chief Financial Officer. She joined mack5 in 2002, and was previously with Davis Langdon Adamson as their Chief Operating Officer. Her responsibilities include direction of marketing, all critical business/legal/insurance functions, HR/recruiting, and joint management of business development. She also provides strategic and financial consulting for the firm's project assignments. Eve earned a BA in Business Administration and an MBA from Golden Gate University.
Paul Beamer, AIA
510.595.4727
pbeamer@mack5.com
Mr. Beamer is a Senior Project and Construction Manager at mack5. Paul is a licensed architect with over 30 years of experience in project management and construction administration for public building projects, with particular expertise in fire stations and community facilities. Paul also has extensive experience facilitating the community involvement process for public projects, as well as in presenting to cities and counties, boards of directors and other community groups. He joined mack5 in 2010 after having worked with us as the architect on a number of joint projects.
Paul earned a Bachelor of Architecture Degree from the University of Oregon and an Associate of Arts Degree from City College of San Francisco.
Joe Blanco
510.595.3020
jblanco@mack5.com
Mr. Blanco is a Senior Project and Construction Manager at mack5. Joe has over 35 years of construction management experience, starting with his own general contracting firm in Lafayette, Louisiana. In 1984, he began working as a project manager for Ryan Associates, a large Bay Area general contractor. In 2001, he made a decision to shift his priorities to Owner's representative and joined mack5, focusing on public and nonprofit projects. He has parciticular expertise in park and recreation projects.
Joe has a Bachelor of Science in English Education from the University of Louisiana.
Ben Kellman
510.595.4725
bkellman@mack5.com
Mr. Kellman is a Senior Project and Construction Manager at mack5. Ben has 23 years experience in the construction industry, including 15 years as lead manager of projects public and private, bid and negotiated. He has managed, supervised, and mentored engineering staff and craft labor, as well as directed and collaborated with designers and owner-user groups, including constructability reviews, design-assist programs, design-build MEPS systems, pre-construction budgeting and scheduling. As a licensed General Contractor, Ben has unique knowledge of local and state building codes, public contracts code, labor management and compliance regulations, and industry and regulatory safety standards. He also has an established network of industry relationships with A/E professionals, specialty consultants, and subcontractors.
Cynthia Madrid
510.595.4730
cmadrid@mack5.com
Ms. Madrid is a Senior Cost Manager at mack5, with over 26 years of experience in the building profession working on behalf of cost consulting firms, including AECOM and DavisLangdon. Her extensive experience includes cost estimating, preparing bills of quantities, evaluation of change orders, value engineering, post contract administration, cost reconciliations, and peer reviews. She has a B.S. degree in Civil Engineering from Adamson University (Philippines) and a B.S. degree in Sanitary Engineering from National University (Philippines).
David Ross, AIA
510.595.4729
dross@mack5.com
Mr. Ross is a Senior Project and Construction Manager at mack5. David has almost 30 years experience in project management and construction, and is a licensed architect with significant public sector and nonprofit expertise, and a range of project delivery models. David has served as project manager and project architect from planning through construction on a wide range of community, civic, and public safety projects.
As a registered architect with many years spent in the design field with notable architects such as Bull Stockwell Allen and SB Architects, he brings a wealth of knowledge on renovation/retrofit/expansion and new construction projects, as well as varied building and construction types, systems, materials and finishes. He joined mack5 after working with us for over 10 years as the architect on multiple joint projects.
David has a Bachelor of Architecture Degree from the University of Oregon, as well as Project Management Continuing Education at the American Management Institute.
Mark Kelley, Principal Emeritus (retired May 31, 2016)
For inquiries to Mark Kelley, please call our main # 510.595.3020 or
info@mack5.com
Mark Kelley founded mack5 in 2001. For 15 years, Mr. Kelley was Principal, Strategic Advisor and Senior Cost Estimator at the firm. He brought almost 40 years experience in the built environment, including trade experience, municipal, institutional, and commercial construction as a general contractor, cost planner and project manager. A licensed General Contractor and LEED Accredited Professional, during his career Mark developed extensive experience working with municipal, nonprofit and private entities providing construction management and cost planning/estimating services.